our heart pounds. T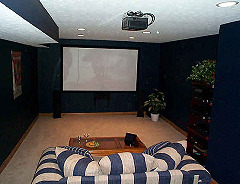 he mountains below grow dangerously closer until, at the very last moment, the pilot regains control and the plane lifts into the air barely missing the rocky peaks below. With a deep breath, you sink back into your favorite sofa, relieved to be safe and sound in the comfort of your own home. This kind of adventure is awaiting you without ever stepping outside your front door. An AHT Home Theater brings the cinema experience to you. We proudly design our Home Theaters with PARADIGM brand speakers and RUNCO brand projectors for your best home theater experience.
We are your partners in entertainment, offering you the best in surround sound aud

io, video projectors, and high resolution digital entertainment. Transform your family room into a "galaxy far, far away", or create a dedicated theme theater with your own unique blend of movie magic. We have the expertise and experience to design a user-friendly system that fits your family's needs and budget. Let AHT make your Home Theater dreams a spectacular reality!
Click here to view our Home Theater Gallery and see the quality of our work.