What is Home Systems Integration?
Home systems integration combines the electrical and electronic subsystems in your home into one unified control system. The subsystems can include lighting, appliances, security, heating and cooling, doors, gates, audio/video, draperies, lawn sprinklers, pool/spa equipment, and communications. With an integrated home automation system a homeowner can perform multiple events such as dim the lights, turn on the TV, start the VCR and even close the drapes all from the push of one button.
Integrated home automation systems are generally modular in nature, meaning that you can choose from the many subsystems to be controlled and the various methods of controlling those subsystems, such as automatic timed events, telephone control, keypad, personal computer, etc. An intelligent home system will bring unparalleled comfort, convenience, security, entertainment, energy savings, and added peace of mind into your home, enhancing your lifestyle.
Benefits of Home Automation
The CONVENIENCE of a single system that takes only "one touch" to operate
The COMFORT of waking up knowing your home has already helped you start your day
The SAFETY of "never coming home to a dark house again"
The SECURITY of knowing your home will take care of itself while you sleep
PEACE OF MIND - never worry about your home when your away
The FLEXIBILITY of digital information, communication, satellite, audio and video distribution anywhere in your home
The SAVINGS on your energy costs begin as soon as you walk out of the door
The EASE OF USE of our systems is so effortless that you will forget it's even working to benefit your home and family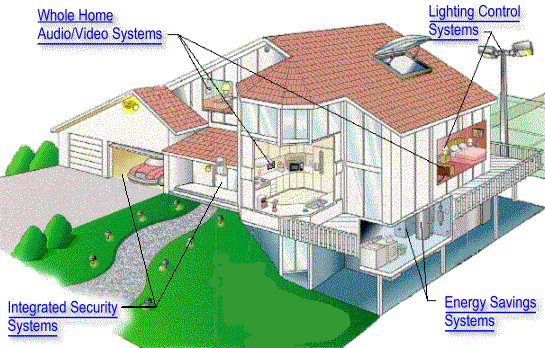 Choosing a Home Control System
Add comfort, convenience, security, savings and peace of mind. Let us design a custom system for you.
Omni II from HAI - An integrated home control and security system that makes the most of today's technology to dramatically enhance the safety, comfort, convenience and value of your home!
Integrated home control technology that goes beyond the mechanical (alarms, lights, energy management) and allows you to manage every aspect of your life.
The OmniII elps you manage your life, by reminding you of important events, helping you communicate with family members, and keeping you aware of household status. It can even call you at work when the kids come home from school. Omni II can be controlled by its wall mounted console, or via any telephone or computer in the world. Omni II provides the most complete home management available.