e are dedicated to supporting emerging technology through high quality broadband cabling. Automated Home Technologiesí Inc. structured wiring network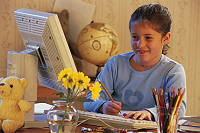 s support communications, high speed Internet access, and entertainment systems that will be as beneficial tomorrow as they are today.
Welcome to the power of broadband technology through structured wiring, a whole home networking solution that distributes voice, data, and video over in-wall cabling to electronic outlets throughout your home. Network your personal computers to share files, printers, and a single high speed Internet connection. Keep an eye on your babyís room or stream music from your personal computer to your home audio speaker system. Speak to your visitor at the front door by simply picking up a telephone.
Click here for more details on Structured Wiring.